News
Opto Engineering TC Core Series Telecentric Lenses
TC CORE bi-telecentric lenses for sensors up to 2/3" feature a truly revolutionary ultra compact opto-mechanical design.
These lenses deliver high-end optical performances and at the same time are up to 70% smaller than other double-sided telecentric lenses on the market, thus allowing to significantly downsize a vision system.
The unique shape has been expressly developed for maximum mounting flexibility.
TC CORE lenses can be mounted in different directions using any of the 4 sides even without clamps, allowing to cut the system's cost, and can be easily fitted or retrofitted even into very compact machines.
Excellent optical performances
TC CORE bi-telecentric lenses deliver excellent optical performances as other comparable Opto Engineering bi-telecentric lenses.

Extremely compact
TC CORE lenses are up to 70% smaller than other telecentric lenses on the market.

Designed for flexibility and smart integration
TC CORE lenses integrate a camera phase adjustment and can be mounted on multiple sides with or without clamps, allowing to cut the costs.
---
IMF Inductive Proximity Sensors
Reliable detection in the Food Industry

The new IMF inductive proximity sensor from SICK features high enclosure rating and extended sensing range for use in all areas of food production.
The IMF inductive proximity sensor's V4A stainless steel housing and LCP plastic sensing face are FDA-approved, and the sensor is certified by Ecolab. The IMF is resistant to industrial cleaning agents and extremely watertight, with enclosure ratings of IP 68 and IP 69K. These features allow a longer service life even when subjected to frequent cleaning cycles, which reduces machine downtime.
With an extended sensing range from 2 mm to 20 mm and high precision the IMF inductive proximity sensor ensures reliable and stable processes. In addition, wide specification limits allow the sensor to be used in all areas of food production. Optional communication via IO-Link creates flexibility and adds more functions for automation applications.
IMF Inductive Proximity Sensors
Direct Connect Camera to Light
The CTL Grey Series cable provides a directly wired connection between a single light and SICK Inspector® series cameras. The light cable is designed specifically to operate with SICK camera systems and Smart Vision Lights LED products, and is plug-and-play for easy connectivity and installation.
By using the cable and adapter part # CB-RS-SICK-ISP, SICK Inspector® series cameras can be attached to Smart Vision Lights' S75 Brick Spot Light, L300 Linear Light, R80 Ring Light, and R130 Ring Light.
The CTL Grey Series cable provides a directly wired connection between a single light and SICK Inspector® series cameras. The light cable is designed specifically to operate with SICK camera systems and Smart Vision Lights LED products, and is plug-and-play for easy connectivity and installation.
The camera-to-light cable designed for SICK's Inspector® series features a 12-pin M12 to "Y" 12-Pin + 5-Pin connector, and is CE- and RoHS-compliant.
---
Sick Profiler™ 2 Short Range Distance Sensor
The Profiler™ 2 short range distance sensor performs highly accurate measurements on the x and z axes and can also measure the surface of more complex objects. Up to four areas can be analyzed at the same time with a single measurement. One of the 10 integrated measurement functions, e.g., height or width, can be selected for each area. The integrated evaluation unit of the Profiler™ 2 saves you time and money when it comes to installation – making the sensor one of the most cost-effective solutions for profile measurement.
Measuring a 2D profile with just one sensor saves on hardware and installation costs
Cost-effective solution for 2D profile measurement
Real-time visualization of the measurement results via the integrated display
Intuitive and quick commissioning via the software or display reduces installation time
Thanks to the stand-alone design, there is no need for cabling or to mount an additional evaluation unit
Reliable measuring regardless of color, material, or shape
---
SICK DeltaPac Reliabel Gap-less Sensing
Now products can be counted and detected on the conveyor in a way that was not possible before. Without gaps. Without delays. The DeltaPac accurately detects and differentiates between successive packaging items on the fly. This ensures faster, smarter and more economical production.
The DeltaPac closes every gap. It eliminates product separation on the conveyor and reduces downtime caused by collision. The DeltaPac is an energy-efficient solution that increases production and requires less hardware, opening up new applications for systems engineering! Deterministic product positioning opens up a new world of automation.
Reliable gap-less sensing
Eliminates product separation
Reduces downtime caused by collisions
---
SICK W2S-2 Subminiature Sensors
The W2S-2 is the first subminiature sensor that also detects low remission, reflective and transparent objects accurately. In terms of detection range and operating distance, it surpasses larger models. You can set parameters and it can be read from the PLC. Or it can even take over automation tasks. This makes the W2S-2 a new force to be reckoned with in the field of subminiature photoelectric sensors.
The new LED technology PinPoint 2.0 from SICK is 2.5 times more light-intensive than the previous PinPoint LEDs, ensuring even better switching precision and repeat accuracy.
Sick W2S-2 Sub-miniature Photoelectric Sensor is the fastest and most intelligent sub-miniature photoelectric sensor on the market. It is the only one of its kind capable of detecting objects up 150 mm away. It offers all the benefits of fiber-optic sensors without all the costs.  Additionally, this sensor offers a "Smart Sensor Solution" feature that can take over timer, counter, logic and diagnostic control tasks formerly done only by the PLC.
---
SICK G10 Photoelectric Sensor with W-Lock Mounting
The G10 is a cost-effective sensor that can be mounted and aligned in less than 10 seconds, drastically reducing commissioning and installation time.
The G10 incorporates precise PinPoint LED technology to ensure simple alignment and reliable object detection at sensing distances up to 1,200 mm with background suppression, providing reliable detection regardless of dust, dirt, humidity and extreme temperatures.
The optional Q-Lock fastening system provides flexible 360° alignment and mounts in a matter of seconds. Since no reflector is required, installation time is further reduced. An easy-to-use potentiometer and bright 360° indicator LEDs ensure easy adjustment and status monitoring. In addition, universal DC and AC/DC power supplies provide even greater application flexibility.  
Maximum optical window surface combined with a small sensor housing
Sensing range up to 1,200 mm with background suppression performance
PinPoint LED with bright and precise light spot
Transistor output or relay output
---
Mitsubishi Electric Introduces the MR-JE Servo System
Mitsubishi Electric introduces the MR-JE series high performance servo system.  Combining proven reliability with a 2.0 kHz high-frequency response and an energy-saving design, the MR-JE offers the best-in-class performance with the setup ease of advanced one-touch tuning.  Fully compliant with global standards and ready for deployment worldwide, the MR-JE series is the right servo solution for all kinds of machines and applications.
MR-JE family of servo products leverages advanced functionality such as true one-touch auto-tuning, vibration suppression, and machine diagnosis functionality in an easy-to-use servo solution.
---
KTM Contrast Sensor
Mini, easy, speedy
The KTM contrast sensor from SICK stands out thanks to its high grayscale resolution integrated into a small housing. The optimized OES4 ASIC technology and a response time of 35 µs ensure reliable and accurate detection of contrast differences even on shiny materials. Various teach-in methods mean greater flexibility during commissioning. The integrated IO-Link can be used to access the parameter settings. This speeds up and simplifies format changes. The KTM reliably detects marks even in conditions with weak contrast ratios and is ideal for use in a wide range of applications.
---
Mitsubishi Electric Automation Introduces the A800 All-in-One Variable Frequency Drive that is fast, dependable, easy to use, and easy to integrate and install. The A800 Series inverter combines traditional induction and permanent magnet motors into a single solution, providing high performance response and energy-efficient motor control.
Because of its flexibility, the A800 can be used throughout an entire facility, reducing training, inventory and support.  Rather than requiring a unique VFD for each application, the A800 frequency controller can support multiple applications, ultimately reducing costs for the end user.
The A800 comes in traditional chassis style, large system/component style and fully enclosed, severe environment style configurations. It is available in 200, 400, 575 and 690 voltage classes.
---
The newly released FX3S adds extra expandability making it possible to utilize analog, Ethernet and MODBUS® functions even in small-scale systems.
The Mitsubishi FX3S is the fit-and-forget PLC solution for space and cost conscious applications requiring up to 30 I/O.  This minimum-expandability, battery-less maintenance free controller is perfect for handling straightforward processes and can be hidden away in locations without regular maintenance activities.
3rd Generation Basic Compact PLC
High performance with minimal size
Integrated power supply (AC powered)
Maintenance-free EEPROM memory
Ample memory capacity (4000 steps) and device ranges
Built-in USB port for the programming communication function to enable high-speed communication at 12Mbps
Built-in positioning control
Integrated real-time clock
---
MSEP 8-axis Controller for ROBO Cylinders
Achieving high-performance in a compact design network connectable controller a single MSEP  can operate both the pulse motor and the servo motor type actuators.  
With direct connection with major field networks including DeviceNet, CC-Link, PROFIBUS-DP, MECHATROLINK, CompoNet, EtherCAT, and EtherNet/IP, the MSEP features 256 positioning points per axis and the ability to verify current position in real-time.  

An absolute position encoder is available, which saves the position data by battery, providing prompt operation without returning to the home position after power off.
Compact design 
Supports major field metworks
Supports both the pulse motor and servo motor
Simple absolute position option
download the MSEP 8-Axis Catalog
---
G-Flex Flexible Parts Feeding Solution
The G-Flex 1500 bowl feeder eliminator offers Ultimate Flexibility!
Buy it once, redeploy it to new parts if your process changes with virtually no added investment.  One G-Flex unit can handle numerous applications providing unrestrained potential.
This flexible parts feeding system handles multiple parts and simultaneously provides them to vision guided robots.  G-Flex is a programmable platform that shakes and tilts automatically, continually feeding almost any shaped item to vision guided robots.
Different components, different geometries, but the same G-Flex unit!
G-Flex delivers flexible feeding benefits with seamless part change-over without time consuming and costly set-up.  Oily parts or chips are no problem with G-Flex's high tolerance for process contamination, and it easily accommodates a wide range of part sizes and shapes.
---
New 2200 Series Smartflex Conveyor
A high-performance, flexible, modular chain conveyor that's simple to configure and even simpler to acquire!
The 2200 Series SmartFlex flexible chain conveyor platform excels at small-part handling, thanks to its power transfer features that smoothly transfers parts as small as 3" diameter on and off the conveyor for improved performance.  
The 2200 Series SmartFlex is a high-performance, flexible, modular chain conveyor that can be configured to wrap around machinery and equipment in the packaging, food, medical and assembly industries.
What makes the 2200 Series SmartFlex different from competing models is that Dorner has removed all the guesswork commonly associated with specifying and ordering a flexible chain conveyor. Dorner provides all the engineering tools and finished assemblies, enabling customers to build complete 2200 Series SmartFlex conveyor assemblies to their exact layout dimensions and view it in 3D within minutes.
download brochure
---
SICK MultiLine Sensor Innovation

Two photoelectric sensors in one housing that combine logic evaluation intelligently with one another – the MultiLine sensor proves to be a high-end sensor in difficult situations for detecting flat or textured objects.

The special characteristic of the MultiLine sensor is the two parallel light lines, i.e. the compact W4 housing accommodates not one but two photoelectric sensors operating simultaneously. And "two eyes" detect better, particularly when objects, such as printed circuit boards have gaps or openings or if – in the case of blister packs or soup packets – they are exceedingly flat.

The MultiLine sensor facilitates faster production sequences since the distances between objects can be reduced. The sensor position no longer needs to be modified for format changes since the sensor is able to detect objects independently of their position. The reliable signal of the sensor from the arriving to the departing edge places less demands on the control software since it no longer needs to be debounced or evaluated. The MultiLine sensor offers high process reliability because all objects are detected independently of their structure, geometry and surface properties and placing the sensor into operation is as easy as pressing a button.
SICK MultiLine Sensor Innovation >>>
---
DataMan 8000 Wireless Handheld Reader
The DataMan 8000 wireless readers include a DataMan 8x00 handheld reader, an Intelligent Base Station, a Wireless Modular Communication Slide-in Module and a Rechargeable Battery.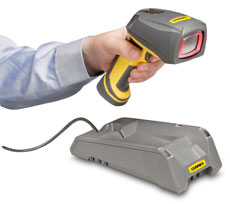 The Intelligent Base Station communicates with a host via USB, RS-232 and Ethernet with Industrial Protocols for Ethernet/IP and PROFINET.
The Intelligent Base Station features a spare battery charging slot with LED indicator, uses standard cables for Ethernet, USB and RS-232 and can be powered via PoE or 24V power supply. The new wireless reader provides a long working range-up to 100m -with a large memory capacity for reading codes when offline or out of range.
Get more information on DataMan 8000 >>>
---
Cognex Visual Inspection using VisionView

VisionView® is ideal for monitoring and controlling In-Sight® vision systems and DataMan® 200 industrial
ID systems on the factory floor, and allows operator controls specific to the application.
VisionView Features
Seamless Integration: Easily mix in with your existing plant floor Human Machine Interface.
"Plug-and-Go" Configuration. No PC required.
Automatic detection of any Cognex In-Sight vision system or DataMan 200 on your network.
View up to nine vision systems in a tiled view.
Displays full color images, with graphic overlays and operator controls.
NEW.Last Failed Image View shows the current image and last failed image side-byside.
NEW.Filtered Image View: Ability to see filtered images from the cameras within the VisionView panel.
NEW.Serial Touch Screen Drivers: are preinstalled to support varioustouch screen panels with VisionView VGA.



VisionView CE-SL Software License for Third Party CE Panels

VisionView 1.4 offers the option to license a version of the VisionView software that can run on Rockwell PanelViewPlus and Siemens MP-Series CE Panels.
On factory floors, space is always a
concern.With VisionView 1.4 simply use your existing CE panels and save your valuable space. There is no longer a need to install new monitors.
---
Rackmountable Automation Computers for Power Substations
The UNO-4000 series are rack mounted computers with PCI extensions. Each UNO-4000 series rack mounted computer is a fanless PC, featuring a fanless design and high computing power, isolated serial communication and multiple Ethernet ports, it makes more reliability for various applications. IEC 61850-3 and IEEE 1613 certified for substation automation applications.

UNO-4671A is compliant with Electricity Certificate IV level (especially for China) and IEC 61850-3 certification, which defines the international standards of network and system communications in power substations. Featuring a high performance Intel Atom D510 processor, the UNO-4671A comes with 10 isolated serial ports, 6 x LAN, 4 x USB (Internal) and 1 x PCI-104 extension.
Onboard Intel Atom D510 1.66 GHz processor
Supports wide range and dual power input
2 x RS-232 isolated ports, 4 x RS-422/485 isolated ports and 4 x RS-485 isolated ports
6 x 10/100Base-T RJ-45 connector
Supports 1 x internal CF card and 1 x 2.5" SATA HDD
WES 2009, Windows XP, Windows CE 6.0 and Linux ready solution
UNO-4683 is compliant with the hardware requirements of IEC 61850-3, which defines the international standards of network and system communications in power substations. Featuring fanless designs with built-in isolated power supply unit and 3 expansion slots for I/O plug-in cards, the UNO-4683 is suitable for harsh environments. The rear I/O connection and LEDs on front panel for all ports and modes highly simplify monitoring for operation and maintenance.
IEC 61850-3 and IEEE 1613 certified for substation automation applications
Onboard Intel Core i7 2.0 GHz processor
2 x RS-232/422/485 isolated serial ports with automatic flow control and 128KB FIFO
2 x 10/100/1000Base-T (supports teaming function) and 4 x 10/100Base-T
Supports 1 x internal CF card and 1 x 2.5" SATA HDD
6 x USB 2.0 (1 x internal) and 3 x Domain I/O expansions
Rear wiring, rich system & I/O LED status indicators
---
New Ultra-Compact Motorized Cylinders with 12mm Cross-section
New Ultra-Compact Motorized Cylinder with 12mm Cross-Section and a body length as short as 60mm.   Its high-speed performance with maximum acceleration/deceleration of 1 G and maximum speed of 300 mm/s is highly effective in reducing cycle time in a variety of systems.
The Mini Cylinder RCD easily achieves 3-point positioning and acceleration/deceleration rate adjustments, which are difficult to achieve using air cylinders.  Push-motion operation similar to that available with air cylinders is also possible, and the force exerted during a push-motion operation is adjustable. The Mini Cylinder RCD is small enough to replace compact air cylinders used for short-stroke travel, pressing, hoisting and positioning.
Ultra-compact size enables it to replace compact air cylinders
High-speed performance with maximum acceleration/deceleration of 1 G and maximum speed of 300 mm/s
Capable of 3-point positioning, acceleration rate adjustment, and pressing
RCD Product information>>>
---
Intelligent Actuator Introduces the RCP4 
The RCP4 electric cylinders feature longer strokes, faster speeds and
larger load capacity.
Equipped with the new high-performance PowerCON drive controller the RCP4 series has improved maximum speeds of up to 1.5 times over previous models.
A new body structure has improve load bearing and stability, doubling the load capacity and extending the obtainable stroke lengths to 500mm.  The new design has also greatly reduces backlash and deflection by the guide rod. 
The RCP4 is available in 3 slider type sizes and 2 rod type configurations.
Ease of Maintenance
Only one set screw to complete motor replacement
RCP4 Slider-type mounting holes are interchangeable with RCP2 type.  The RCP2 can be directly replaced with the RCP4.
---
Barksdale - CS Series Pressure Switch
Introducing the newest addition to the Barksdale line of compact switches – the CS Series. This versatile new line of compact switches offers a low-cost solution with high proof pressures and 3-4% accuracy in a small package, perfect for demanding applications. Multiple electrical connections are available in a wide
array of pressure ranges, from 3-7 psi to 2000-5000 psi. Both field adjustable and factory set options are available, with many different process connections.
The CS Series utilizes a Dia-seal sensor, combining the high proof pressures of a piston switch with the sensitivity of a diaphragm switch. Gold contacts are available in all configurations. The new CS Series pressure switch expands Barksdale's already extensive line of compact switches, including our Series 7000, 96200, E1S, MSPS, 8000, 9000 and 9692/71/81X compact switches. Wherever customer requirements call for a quality low-cost pressure switch where size is critical, for applications ranging from mobile hydraulics to HVAC, the new CS series is a smart choice.
---
SICK - mini Twin safety light curtains
Minivation is an innovation in miniature housing: for the first time, sender and receiver elements have been integrated into an extremely compact housing in the miniTwin safety light curtain. Miniature optimizes space, allows for cost-cutting standardization and simplifies installation. The SICK mini Twin is the perfect answer to current trends in machine design- trends toward increasingly compact machines in electronics industry and factory automation.
mini Twin is both sender and receiver unit
Standard M12 5-pin system connection cables
mini Twin available for both stand-alone and cascade applications
---
Sick - Flexi Series Safety Controllers
Flexi Soft
The Flexi Soft is a powerful, modular, easy to commission safety controller that can be efficiently adapted to the requirements of a variety of safety applications due to its scaleability.  Function blocks and logic functions can be combined using the intuitive user software. Thanks to this modular hardware platform, the controller grows module by module with the task – up to the highest level of safety. The design of safe system solutions is significantly simplified as a result. The integration into fieldbus environments and the related bidirectional communication between sensors, actuators, controllers and the control level make Flexi Soft particularly interesting for small to medium-sized machinery.
Easy configuration via user friendly software


Modular expandability


Configuration memory in the system plug for rapid commissioning


Expanded sensor functionality


Integration in all leading field bus systems
Click here for the Flexi Soft Catalog
Flexi Classic
The UE410 Flexi Controller provides a unique solution for safety-relevant applications. Historically, safety logic has been implemented using either hardwire techniques with safety relays, or via expensive safety programmable logical controllers (safety PLCs). UE410 Flexi Controllers take advantage of the benefits of both technologies. When you connect safety input devices to the UE410 Flexi Controller system, the logic is implemented using rotary DIP switches.  Solid state safety outputs, rated at 1.6 Amps each (3.2 Amps available per module), provide sufficient current capability to drive a variety of actuator loads without using electromechanical relays.
Is configured on the front of the device using a screwdriver


Modular construction; the controller grows with the application


Freely scaleable by means of modules with transistor outputs and relay contacts

Integration in all leading field bus systems
Click here for the Flexi Classic Product Catalog
---
Cognex - In-Sight Track & Trace 
Ready-to-deploy data capture and verification solution
In-Sight Track & Trace is:
Less expensive to install
Less complex to validate
Less costly to maintain
Ready-to-deploy data capture and verification solution
Whether you're looking for a standalone label inspection system, in the early stages of planning your traceability initiative, or you have active serialization projects, In-Sight® Track & Trace™ can meet your needs today and equip you for tomorrow's requirements.
In-Sight Track & Trace works with your In-Sight vision systems to create an identification and data verification solution for labels on pharmaceutical and medical device packaging.
Reads 1D and 2D barcodes: Data Matrix, GS1-128, GS1 DataBar, Pharmacode and more

Verifies correct ID code contents and the accuracy of printed text

Supports GS1 Healthcare data standards and serialization requirements for ePedigree

Ready for 21 CFR Part 11 validation

Provides Data Matrix Mark Quality Assessment during production to detect changes in print quality

Detects label misalignment and skew
Plus, the compact, all-in-one In-Sight "smart camera" systems are easier for you to maintain and validate for Part 11 compliance than most Windows® PC-based vision systems. The simple-to-use, touch screen friendly user interface can be easily integrated into a PC-based HMI or custom application. Or, for a ready-to-deploy solution, In-Sight Track & Trace can also be controlled using the Cognex VisionView operator interface panel (as seen above) or VisionView PC software.
---
iDrive merges advanced drive and control technologies with the compact
design of the 2200 Series by integrating the motor, gearbox and motor controller into a single, space saving package. Dorner has literally redefined the application footprint for small product conveyors.

The groundbreaking iDrive feature is ideal for a variety of packaging and industrial applications where space is tight or additional room is needed around the conveyor. Capable of widths as narrow as 3 inches and lengths as long as 12 feet with speeds up to 100 feet-per-minute.
iDrive Features & Benefits
Internally mounted gearmotor and control for space savings and tight work spaces

Reduced integration time required to mount and wire the total conveyor package

Ideal combination of conveyor and gearmotor sizing for small parts handling

Variable Speed and reversible for maximum application flexibility

Control switches conveniently located in high impact protective case

1.25" diameter drive roller for smooth product transfer

V-guided belts for maintenance-free belt tracking

Maintenance-free brushless DC motor

Incorporates popular features of 2200 Series

Rack and pinion belt tensioning for fast and accurate adjustments

Built-in belt tension indicators for preventative maintenance

T-Slots for fast and simple mounting of automation components