1100 Series Miniature Conveyor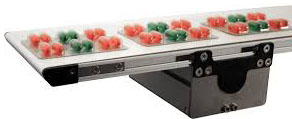 The 1100 Series conveyor platform is the industry's smallest conveyor with a compact design featuring a 3/4″ frame height. This low profile enables the conveyor to fit into the tightest of spaces, freeing up valuable machine or worker space.
Small or light weight product movement
Small part transfers
Tray handling
Pill package handling
Package labelling
Pharmaceutical Applications
Life Science Applications
Medical Applications
1100 Series Information
---
2200 Series Conveyors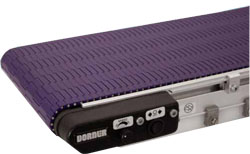 2200 Series low profile, high performance fabric and modular belt conveyors feature a high speed nose bar transfer option, a durable single piece frame design, universal T-slots, and a wide range of belting and guiding options. The 2200 Series Line is engineered for small to medium sized parts, precision applications and flexible layouts.
Small to Medium Part Handling
Transfers
Accumulation
Precision Parts Movement
Part Incline/Decline Routing (Z Frames)
Positioning
Automated and Manual Assembly
2200 Series Information
---
3200 Series Heavy Duty Conveyors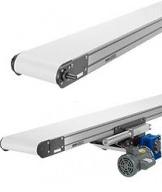 3200 Series heavy duty, low maintenance conveyors that are ideal for medium to heavy sized parts, precision applications, bulk handling and both automated and manual assembly. Available in both fabric and modular belts, 3200 Series Conveyors are designed for high speeds, long runs and up to 4 curves per conveyor.
The Heavy Duty 3200 Series conveyor is available i3 formats: Flat Belt End Drive, Cleated Belt End Drive, and Center Drive models.
3200 Series Information
---
7000 Series Sanitary Conveyors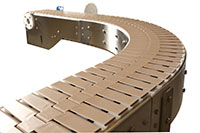 Dorner's line of sanitary conveyors are designed to improve your food safety. With Dorner's hygienically designed conveyors, you can have confidence in your food handling equipment and less worry about product quality. Features such as removable wear strips, belt lifters and frame cut outs allow fast access to the conveyor frame, meaning these conveyors clean up two times faster than the competition.
The 7X series of conveyors, also known as our AquaGard and AquaPruf platforms, take food handling conveyors to a whole new level. Designed for fast and effective sanitation and protection from contamination, 7X line provides the same Dorner quality and flexible designs as all our systems.
Dorner is also proud to offer the only USDA certified conveyors in the industry: the AquaPruf 7400 Ultimate and 7600 Ultimate. They are the only modular conveyor on the agency's list of accepted equipment for the meat and poultry industry.
7000 Series Information
---
Precision Move Pallet System Conveyors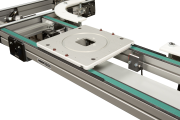 Dorner's Pallet System conveyors simplify product flow and control with features such as a unique pin tracking system, industry compatible pallet sizes and innovative modules. 2200 Series Precision Move Pallet System conveyor and the SmartFlex Pallet Systems are advanced in pallet traffic management and are specifically designed to increase efficiency, reduce downtime in automation processes, and provide the accurate conveying.
Manual and automated assembly
Product routing and control
Product inspection and testing
Assembly automation
Precision Move Information
---
SmartFlex Spiral Conveyors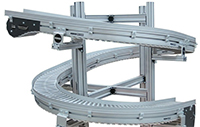 When floor space is tight and applications call for product to be moved up or down, Dorner's trio of SmartFlex curve conveyors are the perfect answer.
The SmartFlex Helical Curve, Spiral, and Alpine conveyors greatly expand the capabilities of Dorner's SmartFlex line by giving customers the ability to move product up or down and around equipment to accommodate tight spaces.
Dorner's SmartFlex line is a flexible conveyor platform that reduces costs, saves time and offers simple configuration and acquisition options to Dorner's customers within the packaging, medical, health and beauty, industrial automation and electronic industries.
SmartFlex Spiral Conveyor Information
---
FlexMove Conveyors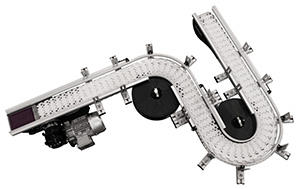 The modular design of the FlexMove Conveyor along with the building blocks of drive, corner, vertical bend, etc. provide unlimited possibilities for conveyor confi gurations and applications.
FlexMove is capable of multiple curves as well as inclines and declines on a single conveyor. Powered transfers allow for smooth end transfers for products as small as 3" in diameter. 
Lengths: 0.6m to 30m (2ft to 98ft)
Loads: Up to 272 kg (600 lbs)
Speeds: Up to 76mpm (250 fpm)
Standard widths: from 45mm to 260mm
FlexMove Information
---